Devotional Routine + Bible Study: A Beginner's Guide for Women Battling Lust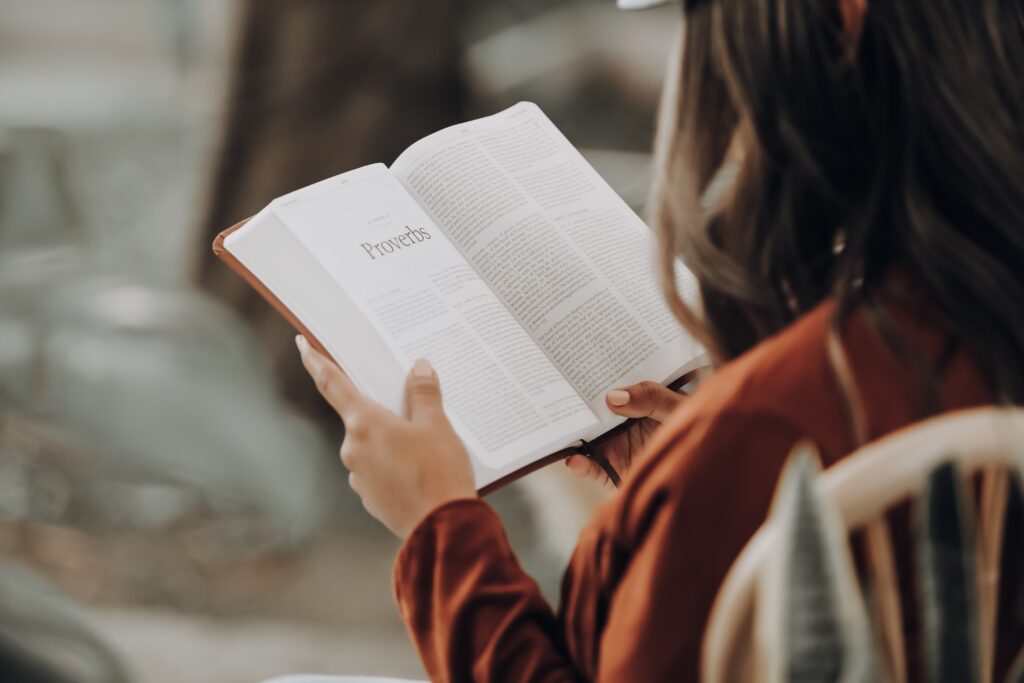 Are you ready to practice spiritual habits that lead to wholeness in Christ? Discover the benefits and the basics of establishing a daily devotional routine, along with the keys to understanding your Bible reading for life application.
New around here? I'm Nia. Host of the Purpose in Purity Podcast and a writer for the Proverbs 31 Ministries' First 5 App. There, I pen bible teachings read by over 80,000 women during their own quiet time with God.
While anyone can use this devotional and bible study guide for beginners, I've created it especially with women battling lust in mind. It's a combination of biblical principles and practical guidelines, with bits of my own testimony woven in between.
---


As a new Christian, I confess that reading my Bible each day felt more like a chore than a privilege. Even now, there are days where I'm tempted to scroll through my Instagram feed before opening my Bible app. Developing the discipline to start your day with God's word isn't easy. That's why I want to begin by sharing why it's so beneficial, especially as a woman practicing sexual purity.
So how will establishing a devotional routine help me overcome lust?
Creating a habit of spending time with God helps us:
Embrace the purity mindset.
Surrendering our lives to God requires us to let go of worldly lies and patterns of thinking. Instead, we embrace a purity mindset by clinging to God's truth found in the Bible. His word teaches us that biblical purity is not a list of sex don'ts, but pursuing a personal relationship with God.
Find purpose in purity.
Learning to operate in the wisdom and understanding we receive from scripture helps us recognize sin's deadly consequences and empty promises. We come to understand that a "no" to lust is a "yes" to wholeness in Christ and having maximum impact within His kingdom.
Live the purity lifestyle.
Better than any google search you could perform, God's word provides answers to our hardest questions. Meditating on God's word equips us to live virtuous lifestyles that overflow with God's presence and peace – even through life's roughest storms.
Persevere in purity.
Our faith grows through the hearing and understanding of God's word. When we grow in faith, we're able to actively trust God. Active faith – demonstrated by our actions that evidence our confidence in God's promises – enables us to access God's grace, His supernatural empowerment and sustainment, when we are weak.
Cultivating an intimate relationship with Christ through a devotional routine is essential to experiencing victory over lust. Cherishing God's word creates an inner-longing within us to please God, enabling us to resist sexual sin from the inside-out.
You wouldn't be reading this if you didn't desire to experience this for yourself, but perhaps you're running into one of these barriers:
You don't always understand your Bible reading.
You keep doubting if you're doing your devotional time the "right way."
First things first. We can't get the most benefit from our devotional time if we don't understand what we read, right? So let's learn 5 simple ways to study the Bible for understanding.
4 Steps to Understanding What You Read
The Bible is a collection of 66 books, with diverse genres ranging from poetry to law. With this in mind, it's important that we know the author's message to the biblical audience before we attempt to apply it in our lives. The following a 4-step process to discovering the timeless biblical principle within a Bible passage (based the "Interpretive Journey" found in J. Scott Duvall and J. Daniel Hays' Journey into God's Word).
Step One: Discover what the text meant to the original audience.
Read the passage and examine its context to uncover the author's message to the biblical audience. One of the simplest ways to do this to the read the verses before and after the passage. Consider the historical events taking place at the time or any cultural details relevant to that passage. Study Bibles, such as the John Macarthur Study Bible or the She Speaks Truth Study Bible, usually contain such information in the pages introducing each book of the Bible or in the commentary section located below the scripture.
Step Two: Consider the commonalities and differences between you and the original audience.
Understanding what distinguishes believers of all time from the biblical audience will help us avoid error in applying the passages to our lives. Not every teaching or biblical account will apply to non-biblical audiences. This isn't an exhaustive list, but here are a few examples of distinguishments you may consider:
Covenant (Is the audience under the Old or New Testament?)
Culture (Does this passage unfold during a festival?)
Situation (Is the audience preparing for war? Witnessing a unique event?)
Step Three: Identify the timeless biblical principle within the passage.
Using what you know of the biblical audience, identify the teaching point that can be applied by all believers, regardless of time, culture, language, etc. Once you come up with this principle, make sure it doesn't contradict the whole teaching of the Bible. Your principle should align with biblical mandates.
Step Four: Determine the response to that principle.
Now that you've identified the timeless principle, it's time to respond by outlining ways you can apply that teaching to your life. Ask yourself how responding with obedience should impact your thought-life and actions.
If you'd like to watch me go through a passage using the steps outlined above just click here.
Now that we've come up with a simple strategy for understanding a passage, let's overcome the stumbling block of feeling like we're doing devotionals "wrong."
3 Elements of a Devotional Routine
"Is there a right way to have a devotional time?" I wrestled with this question as a new believer, eager to connect with God and grow in my faith. After studying the scripture, I've found 3 elements mentioned that would enhance our time with God. However, I didn't find any scriptures mandating a specific time, place, or routine to do this. We serve a personal God, who created us all uniquely. So how you execute these 3 elements of a devotional time with God may look differently from my own personal routine and that's okay. The point is that we do what works best for our own particular situations.
These 3 elements of a devotional time include:
1) Scripture Reading
As its name implies, we read a passage of scripture.
2) Prayer
We express our gratitude and make requests and petitions for others through conversation with God.
3) Meditation on God's Word
We dwell mentally on truths from God's word, whether through journaling our takeaways from scripture, singing worship songs, memorizing verses, etc.
Some final suggestions for making the most of this time are:
Choose a consistent time and place (if your lifestyle allows). Many people choose mornings, their lunch breaks, or before their bedtime.
Remove any distractions. (Cell phones, electronics, etc.)
Wake up. Being alert is better than feeling "spiritual" because you woke up super early.
If you want to go deeper with this, check out my free training, Bible Routine in 10 Minutes right here. The training covers today's teaching and more, including how to choose a Bible plan.
My Devotional Routine
For all of my visual sisters, like myself, out there who like to see examples, I'd like to share my own devotional routine. Once again, there is no formula for the "right" way to establish a devotional routine. This is what works for me and my lifestyle. (However, I imagine the time I do this might change once baby Gabrielle arrives in December.)
First, I awake and wait until I'm alert to begin my scripture reading. I typically rise at 6 am each morning. Sometimes, I play worship music to keep my first thoughts on God, rather than my Instagram feed or the day's tasks. After having a cup of coffee or making up my bed – just small things I do to get my brain fired up – I head over to my dining room table.
Seated at my wooden table, which may or may not have breakfast on it, I access my YouVersion Bible app and the First 5 app from my iPhone. First I read the day's key passage and then I dive into the First 5 teaching for that morning. On Saturdays, the teaching comes in the form of a podcast, which I love. I recommend First 5, not because I write for them, but because the teachings are biblically solid. Remember those 4 steps to understanding the Bible I listed before? Each teaching is a product of that process. I can say that because I'm behind the scenes and I've experienced all of the edits and theological oversight required to publish each one.
After I've finished the bible reading, teaching, the "more moments" section, and the "my moment" response question, I reflect on what I learned. Some days reflection looks like journaling highlights from the First 5 teaching. Other days, I just sit awhile and talk to God about it, especially if I experience some timely conviction or encouragement.
Finally, I pray. I typically begin by expressing my gratitude and confessing sin, but I confess that when things are tough I jump right into pleading for God's rescue and declaring His promises – which is also appropriate. (Haha.) I usually wrap up my prayers with petitions for others and asking God to establish any tasks I set out to achieve for that day. And, of course, I declare that my requests are made "in Jesus name."
Pretty simple, right? And there's no limit to how many times you do this in your day. Go crazy, sis.
Recommended Resources
Before we go, here are some resources I recommend to help you solidify your own devotional routine. All are resources I own and use for myself. (Note: The book links are affiliate links, so if you use one I will get a small commission, which helps me maintain this site and its content for viewers like you.)
Bible Apps:
YouVersion
(Access my 5-Day Purity Mindset Reading Plan. Go to "Plans" –> Hit the search icon in the top left corner –> Search "5-Day Purity Mindset Reading Plan".)
Devotional Apps:
First 5 App
Beloved Women App
Whole Magazine
Books:
Journey Into God's Word
Freebies:
Bible Routine in 10 Minutes
Bible Study (How-to Video)
Leave a Comment:
Didn't see your question about devotions or Bible study answered in this post? Leave your question in the comments below to keep the conversation going.