How to Leave a Lifestyle of Sexual Sin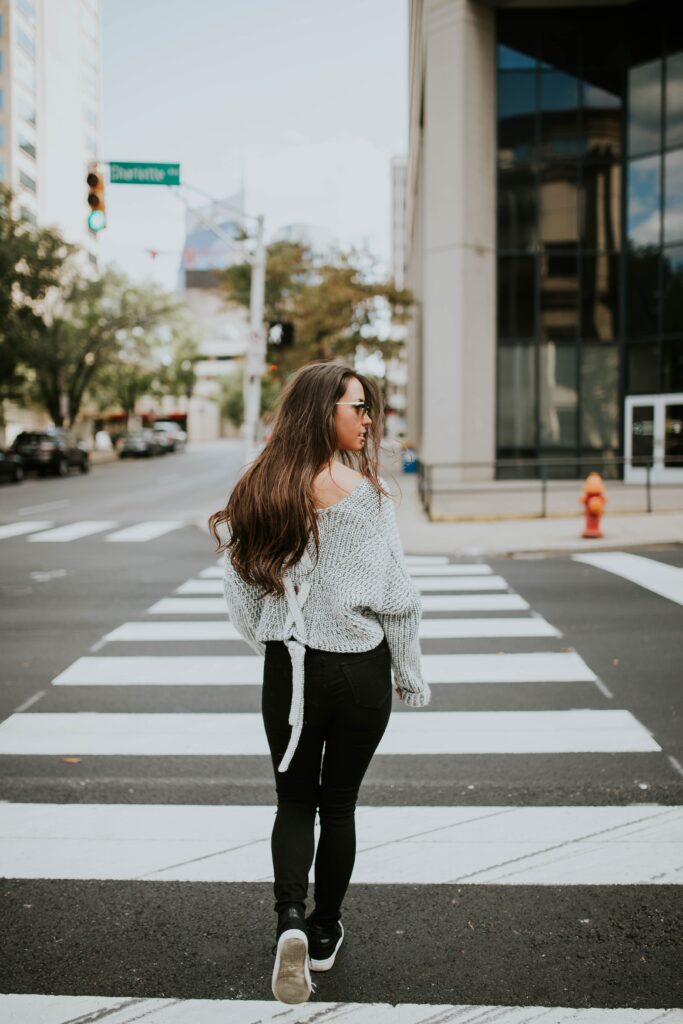 Get tired of hearing sermons about how to avoid sexual sin, but never hearing how to leave a lifestyle of sexual sin? Well, no more, Sis!
Today I'm going to share about my own experience, give you some actionable steps to apply in your own situation, and share tips from other Christian authors who've been there.
By the end of our time today, you'll have some clear next steps for your journey – whether you're struggling with porn, masturbation, same-sex attraction, or ungodly relationships.
---
What is a "lifestyle of sexual sin?"
As a writer, I make a habit of writing every day. My identity as a writer is based on what I practice every day: writing. You could even say I lead a lifestyle of writing. Makes sense, right? The same concept can be applied to sexual sin. One who makes a consistent habit out of practicing sexual sin leads a lifestyle of sexual sin. Some of its expressions include adultery, homosexuality, promiscuity, or porn addiction.
In 1 John 3:9 we're warned, "No one born of God makes a practice of sinning, for God's seed abides in him; and he cannot keep on sinning, because he has been born of God." (ESV) So as Christ followers, it ought to concern us if we say we love God, but make a habitual practice of sexual sin.
Saying "Goodbye" to Lust
As a college junior, my own sexual sin did concern me. Compared with my Christian friends at that time, my lifestyle didn't reflect that I had a personal relationship with God and I wanted that to change.
But "change" was a lot harder than I initially expected. After breaking up with my boyfriend, I discovered that becoming a Christian doesn't make you immune to depression. Though that relationship was mainly the root of my sexual stronghold, I also had to let go of pornography, masturbation, and same-sex attraction.
Alone, it would be impossible to break free from Lust's chains, but God graciously gave me everything I needed to experience freedom and grow spiritually. It began with His gift of salvation. The Lord's compassion and love inspired me to repent of my sin and gave me a desire to please Him. Next, God immersed me in a biblical community through my local church and connected me with godly women who held me accountable to His word. He also gave me discernment to avoid compromising situations. Because God empowered me, I was able to persevere in purity.
6 Steps to Leaving a Lifestyle of Sexual Sin
Are you ready to make your own exit out of a lifestyle of sexual sin? While everyone's situation is unique, below I've outlined some actions you can take to begin your transition into the purity lifestyle.
Step 1: Bring a Repentant Heart
Health experts warn that trying to lose weight to "look good" is a poor reason to diet and exercise. Instead, they encourage others to make weight loss a part of their personal fitness lifestyle. Framing "weight loss" as a lifestyle goal rather than a one-time event inspires long-term commitment to reaching and maintaining our health goals. Likewise, having the proper motivation for leaving a lifestyle of sexual sin is key to experiencing lasting change.
Pursuing purity to look better spiritually is as short-sighted as an extreme diet. You still have unhealthy habits and your results are only temporary. But when you consider sexual purity a part of leading a healthy spiritual lifestyle, you're more likely to achieve and maintain good spiritual health. Why? Because when your motivation is to please God in every area of your life, you'll address the root of your lust problem, sin, and achieve spiritual transformation. So when you leave a lifestyle of sexual sin, make sure you bring a repentant heart with you.
Step 2: Pray
Think of prayer as a lifeline throughout this transition. You'll receive more of God's grace and provision to help you persevere if you remain open and honest with God. Use prayer to connect with Him when you feel tempted, you need His forgiveness, you lack strength, or could use some encouragement. Here's an example of what you might pray when you feel tempted:
"God, right now all I want to do is [insert your sexual struggle here]. But your word says that when I'm tempted you'll show me a way to resist. Please strengthen me to resist temptation in this moment. In Jesus' name I pray. Amen."
Also, don't be afraid to ask trusted believers and loved ones to pray for you as well. God responds to the prayers of His people and I can testify that the collective prayers of others will aid you in your journey.
Step 3: Create a Support System
Did you know that having an accountability partner can drastically increase the chances of achieving your fitness goals? In the same way, having a support system that is committed to holding you to God's truth will help you maintain your commitment to sexual purity.
A support system is a group or network of people that support you in achieving a personal goal. While an accountability partner – someone who encourages you and whom you give an account of your efforts on a more personal level – may be a part of your support system, not everyone in your support system will offer accountability. One person may support you by spending time with you. Another may be available to listen to you. Still another may let you sleep on the couch and cry your eyes out when needed. (True story. My friends let me do that.) Click here for more info on creating a support system.
Step 4: Act
I don't think you'd be reading this if you (or someone you know) weren't currently living in a lifestyle of sexual sin. While I won't assume what specific sins you're wrestling with, I want to encourage you to act by doing the next right thing in your own situation. For someone in an ungodly relationship that might be breaking up that person. For someone struggling with pornography, it might be confessing your sin, finding an accountability partner, or installing accountability software on your computer. If you have a relationship with Christ and have repented for your sexual sin, the Holy Spirit will reveal your next step of obedience. When He does, act in obedience.
Step 5: Grow
As we grow in our knowledge of God, our faith grows and we're able to experience more of God's grace. (2 Peter 1:2) Trust me. You want this grace because it's what helps us persevere during life's toughest trials. (2 Corinthians 12:9) But how do we increase our knowledge of God?
The Bible says that faith comes by hearing the word of God (Romans 10:17) and that faith without action is dead (James 2:26). So it's not only important that we learn more about God through His word, but that we apply what we learn. Doing both helps us grow spiritually and allows God's grace to flow freely in our lives.
Step 6: Stay Accountable
Whether it's my husband, Gerald, or a trusted friend, I still remain accountable to others concerning sexual sin. Sin doesn't discriminate based on your marital status or the season you're currently experiencing in life. It doesn't care if you're a church leader or not. It's tempting and deceptive.
If you want to continue to experience freedom from sexual sin, it's wise to stay accountable to someone. The Bible warns us to resist the temptation to believe that we've "arrived," that we're above sinning, or that we no longer need "accountability" from others. (1 Corinthians 10:12)
Tips from Christian Authors Who've Been There
I hope these steps helped you gain clarity on how to pursue purity, but perhaps you'd like more insight from women with specific struggles? Here are some tips from fellow Christian authors who've transitioned out of a lifestyle of sexual sin. (The following quotes are excerpts from exclusive interviews included in my Taking Back Your Purity course.)
For Women in Transition
"Temptations are going to come, but when the word of the Lord is in your mind – and when it comes to you – that's when you can combat those temptations. You can combat those lies. The enemy would love to say to you, ' Just do it. You're never gonna get married.' Or, 'There's no reason why you can't enjoy yourself now.' These lies are enticing and we believe them."
Crystal Renaud, Dirty Girls Ministries
For Single Women/Mothers
"Whenever I get that feeling like 'Ahh, I wish I was married' or 'Ahh, I wish I had someone to cuddle with – watch a movie with,' I stop and in that moment I pray. I pray for my future husband: that God is preparing him; that he's the man I need him to be to lead my family – to lead me closer to God. I pray that he's a man of wisdom, a man of favor. I pray that he knows how to walk in his calling, that he's good with money, things like that. I pray for those important things and then I pray for myself. 'God, prepare me.'"
Brittany Harris, Blossoming Brittany
For Women Who've Experienced Sexual Abuse
"When we keep those wounds and that shame in the darkness, it really begins to influence the decisions we make today. I have never met someone who has healed in hiding – healed by keeping secrets. Healing starts with honesty. Pray, 'Lord will you bring people into my life that would show me what the steps of healing are because I want to be set free."
Dr. Julie Slattery, Authentic Intimacy
For Women Battling Homosexuality
"One of the things I say all the time is: 'Feelings fade. Faith finishes.' So God's word is eternal and it will never return void. And it will never let us down. But our feelings will always take us toward our flesh. And our flesh will always bring death. That's that place where I really had to surrender my feelings to the Lord and say, 'God, even though I'm feeling all this within. Even though I have all these hurts and wounds in my heart and this is so painful, show me through your word who I really am and help me to live that out because I can't do that by striving. I can't do that by trying to change myself. But the thing is – and this is so important – I was willing."
MJ Nixon, Heres My Heart Documentary
For Married Women Dealing with Sexual Sin
"For anyone whose dealing with this, I would encourage you to prayerfully tell your spouse and pray about when would be a good time. Because there are times where they're not the ideal time. But the Holy Spirit knows. He knew with me. He tapped me on the shoulder. He said, 'Amy, today's the day.' And I knew I had to do it. I think praying about it is so crucial."
Amy Riordan, Longing For Intimacy
For Women Battling Porn Addiction
"Avoid the pitfall of anonymous confession. You've told somebody, but they don't know who you are. But really you're kinda expecting them to do something, but they can't because they don't know who you are. And then you feel justified because they didn't help you. Of course, you didn't let them. They don't know who you are!"
Jessica Harris, Beggars Daughter
Leave a Comment
Are you currently transitioning out of a lifestyle of sexual sin? Comment below with what has helped you in your journey.SaveSave