How to Deal with Depression As a Christian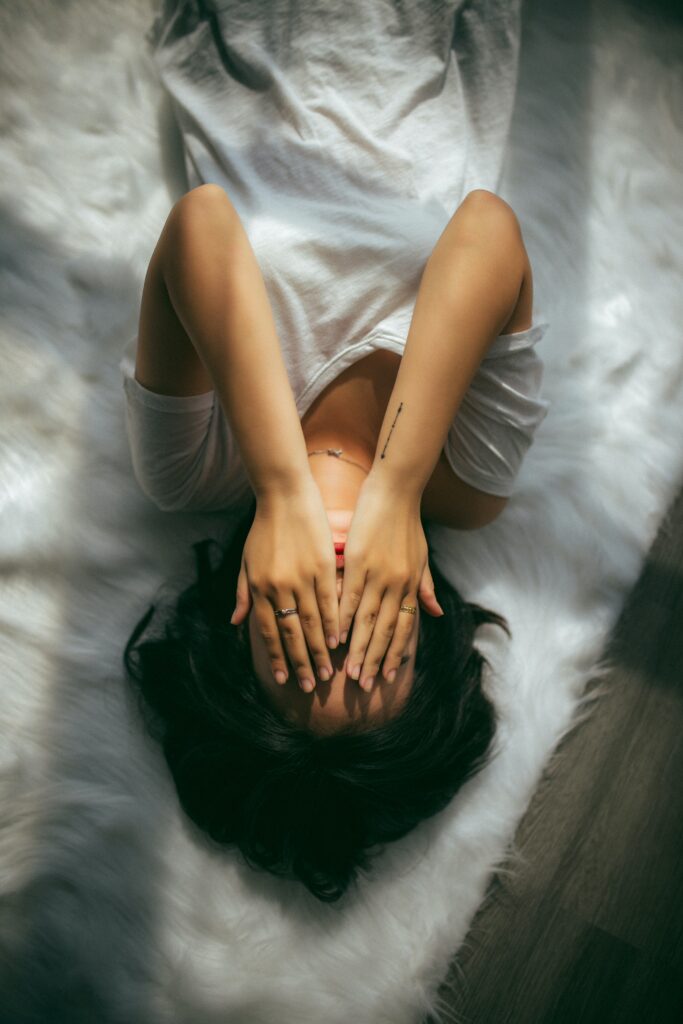 Today, I'm going to share some practical ways to fight depression as a Christian woman. This is such an important subject related to sexual purity because I can personally testify that depression can make you vulnerable to sexual sin.
I've experienced ongoing bouts of depression some years ago when I was recovering from a breakup and more recently during the first trimester of my pregnancy. I know how difficult fighting for joy can be when you're depressed so I want to encourage you by sharing what helped me persevere through those times.
Keep in mind that anything you hear on the Purpose in Purity Podcast is not professional counseling advice. But using the scriptures, wisdom from my own experiences, and knowledge from my study of Christian counseling I hope to give you an informal, but practical guide to fighting depression.
---
Defining "Depression"
According to the American Association of Christian Counselors, symptoms of depression "are many, including decreased energy, fluctuating body weight, depleted concentration, irritability, bouts of crying, hopelessness/despair, a disinterest in pleasurable activities, social withdrawal, and thoughts of suicide."
Some possible causes of depression include: poor health; drug use; grief from significant loss (i.e. loved one, job, etc.); spiritual Issues such as unconfessed sin; and poor thought-life or self-talk. Keep in mind that everyone's situation is different. It may take some prayer and self-reflection on your part – and perhaps conversations with a mentor or counselor – for you to identify the root of your own depression.
Depression isn't a sin.
Critical to your journey to overcoming depression is understanding that experiencing depression isn't sinful. Your emotions are gifts from God that help us move toward fulfilling our needs. In his book "The Voice of the Heart: A Call to Full Living" Chip Dodd says, "Hurt leads to healing. Loneliness moves us to intimacy. Sadness expresses value and honor. Anger hungers for life. Fear awakens us to danger and begins wisdom. Shame maintains humility and mercy. Guilt brings forgiveness. Gladness proves hope of the heart to be true."
Depression is a relative of the emotion anger. Chip Dodd explains, "In depression, we turn against ourselves and have contempt for our hearts. We force our fight for life to be still and our cry for identity to be silent. All this energy turned against the self wears us out." Think of depression as the anger you feel when you're feel denied some meaningful aspect of life – only you direct this anger at yourself and lose yourself in hopelessness.
Biblical Examples of Depression
In the Bible we find several examples of believers experiencing depression. Job became depressed after suffering severe losses. (Job 1-3) When disappointment and fear gripped the prophet Elijah, he prayed that God would take his life. (1 Kings 19) In Psalm 38 and Psalm 51, David expresses his depression after he engaged in hidden sin. Nehemiah became depressed after hearing the devastating report of Judah. (Nehemiah 1-2) Naomi, Ruth's mother-in-law, dealt with depression after the deaths of her husband and sons. (1 Kings 19:1-18) Hannah anguished over her barren womb until God blessed her with her son Samuel. (1 Samuel 1) This is a pretty long lineup, but I'm sure a deeper study on the subject would produce more examples.
God's will for you.
I encourage you to read these biblical accounts of depression for your own personal study. You'll see that in each instance God responds and ministers to each person. Why? Because God loves His children and is concerned with their welfare. (Psalm 55:22)
It's worth mentioning here that it's not God's will for you to be happy every single moment of your life. In fact, there are times when it's inappropriate to be happy. (Ecclesiastes 3:4, Romans 12:15) It is God's will for you, however, to maintain an attitude of gratitude, hope, and contentment through all of life's circumstances. (1 Thessalonians 5:18, Philippians 4:10-14)
When you consider the source of your depression, remember that your mindset matters. When looking back on his brothers' betrayal in Genesis 50:20, Joseph was able to say to them, "you meant evil against me, but God meant it for good." If we choose to believe that God is using our circumstances for our good, depression can be a vehicle for us to experience more hope, peace, and gratitude in Christ.
8 Ways to Fight Depression
Now that we've defined "depression" and approached the subject from God's word, let's dive into some practical ways we can fight depression. These are all things, I've personally done when I've experienced depression. Most importantly, each of these suggestions is supported by God's word.
1) Pray.
This is probably the last thing you feel like doing when you feel depressed, but hear me out. Rather than pretend everything is okay or perhaps even avoid prayer because you may be frustrated with God, it's really best to be transparent with Him. If you're angry tell God about it. If you're hurt tell Him about it. God's already intimately aware of how you feel, so just be honest with Him.
When Elijah became depressed, the first thing God said to Him was "What are you doing here, Elijah?" (1 Kings 19:13) God gave Elijah the opportunity to express how he was feeling and why He was feeling it in conversation with Him.
One thing I would specifically pray is for the Holy Spirit to comfort me. After all, God's word says the Spirit is our comforter (John 14:26), so I aligned my prayer with that reality expressed in God's word. (Note: Some translations translate "comforter" as "helper" or "advocate.")
2) Meditate on God's word.
Let's continue with our example of Elijah. Elijah's response to God was filled with exaggeration and misinformation about His circumstance. For example, Elijah claimed he was the only prophet remaining, but God corrected Elijah by informing him that there were still 7000 people who remained faithful to God. (1 Kings 19:18)
Of course, I'm not saying people experience depression ONLY because they're self-deceived about something. But it is important to note that when we're overwhelmed, we often speak untruths to ourselves that keep us depressed. Meditating on God's word helps us dispel those lies and grasp onto the hope found in God's promises.
One lie I had to unlearn during my first trimester of pregnancy was: "You're not doing enough. You're such a burden." In the midst of all of the pain and strain on my body, I lost focus off on Christ, which created the perfect condition for me to fall into a performance trap. Consequently, I tried hard as I could to prove that I'm lovable or worthy through achievement. Doing a Bible study on God's grace during that time really helped me come back to God's truth about my situation. I realized that I simply needed to adjust to my new pace as a mom and show myself some grace.
3) Confess sin and pursue holiness.
The stress of living with the shame and guilt of unconfessed sin can leave you depressed, such was the case with David when he had an affair with Bathsheba and murdered Uriah. (Psalm 38, Psalm 51)
Speaking from personal experience, I was under constant stress when I was caught in a cycle of hidden sexual sin because of my guilt and inability to break free from that sin on my own.
Again, I'm not inferring that this is why you may be experiencing depression. It's up to you to prayerfully discern that for yourself. Just understand that unconfessed sin is a spiritual issue that can lead to depression.
4) Reach out to trusted friends and mentors.
The temptation during depression is usually to isolate oneself. During my B.C. days (before Christ days), I did that by seeking out crowds and parties. Whether you isolate yourself by being alone or by getting lost in a crowd, both are equally unhelpful.
Instead of isolating yourself, I want to encourage you to be vulnerable and reach to a trusted friend or mentor with your problems. God often uses other people to minister to our needs. He's certainly done this in my own life. During my last experience of depression, my husband and I reached out to a couple at our church and I'm so glad we did. I felt I could trust them because they are compassion and have always been open about their own experiences with depression. They met with us weekly for a meal, conversation, biblical encouragement, and prayer.
Why not ask God to direct you to someone who could talk to you? If you're not sure who to speak, consult leadership within your church. If you're not currently in church, google local biblical counseling ministries.
5) Rest.
A lack of rest and self-care can contribute to depression. Again in Elijah's case, God sends an angel to feed Elijah and allows him to rest. (1 Kings 19:4-8) If you've been going–going–going, it's best for your mental and physical health for you to be more intentional about resting. Your physical health influences your mental health, so rest and take self-care seriously. It's not selfish. It's necessary.
6) Exercise.
Yes, I said it: the "e" word. Exercise is another one of those things you probably won't feel like doing when you're depressed, but once you start you can start to feel its benefits immediately.
According to MayoClinic.org, "regular exercise may help ease depression and anxiety by:
Releasing feel-good endorphins, natural cannabis-like brain chemicals (endogenous cannabinoids) and other natural brain chemicals that can enhance your sense of well-being

Taking your mind off worries so you can get away from the cycle of negative thoughts that feed depression and anxiety
Regular exercise has many psychological and emotional benefits, too. It can help you:
Gain confidence. Meeting exercise goals or challenges, even small ones, can boost your self-confidence. Getting in shape can also make you feel better about your appearance.

Get more social interaction. Exercise and physical activity may give you the chance to meet or socialize with others. Just exchanging a friendly smile or greeting as you walk around your neighborhood can help your mood.

Cope in a healthy way. Doing something positive to manage depression or anxiety is a healthy coping strategy. Trying to feel better by drinking alcohol, dwelling on how you feel, or hoping depression or anxiety will go away on its own can lead to worsening symptoms."
Personally, exercise is something that helps me sleep when I experience depression. Insomnia is no joke and busting a sweat helps my body relax. Afterward, I take a shower and jump in the bed for a good night's sleep which makes a huge difference when you're struggling.  Can I get an "amen?"
7) Don't put your life on pause.
Now, everyone's situation is different, but personally I don't recommend ceasing all activity when you experience depression. Having a lot of time to think alone in your negative thoughts is not the best thing for you. If you take a break from work or something – perhaps because you're burned out or something – use that time to do constructive things. That could be taking a vacation, taking time to visit family and friends, participating in a Bible study, or volunteering. Whatever ever you do, just keep moving.
As a Christian woman serving in ministry, experiencing depression made me feel like I was disqualified to serve. If you feel the same way, I want to encourage you by reminding you that people like Moses and Elijah, the two guys that stood with Jesus during His transfiguration, experienced depression. (Matthew 17:1-13) These guys were considered the "all-stars" of the Old Testament and they experienced depression! The thought that you are disqualified because you feel depressed is just a lie from the enemy. If you need to step down for a while, Sis, that's fine. Just don't feel like God can't use you because of what you're going through. If anything, walking through this with the Lord will help you minister in a whole new capacity.
8) Seek professional or lay counseling (and medication if necessary).
Seeking a counselor can be one of the best things you do when you experience depression. I've done so and I've been so blessed by that experience. If you have suicidal thoughts, please reach out to a friend, loved one, church member, or counselor as soon as possible.
If it's within your ability, I urge you to be selective with whom you allow to counsel you. Do your best to find a counselor that accommodates both your budget and Christian worldview to the best of your ability. (See my recommended resources for a directory you can consult.)
Your professional counselor/psychologist will be able to assess if medication for your depression is necessary. If you do have to take depression medication, please don't feel less than, weak, or that you lack faith. Our bodies play a big role in our mental health, so if necessary get your body what it needs so you can be your best self. There is absolutely nothing shameful about getting the medical treatment you need. Believe me, if I get shot today I'll be praying for healing on the way to the hospital.
Recommended Resources
Alright, those were my suggestions for fighting depression. I hope that today's content was encouraging for you. Before we go, I'd like to recommend some resources for battling depression and maintaining your mental health. It's not an expansive list by any means, but I'm sharing the specific resources that have helped me and that I believe would be beneficial to you as well.
Books:
The Search for Significance, Robert S. McGee
The Voice of the Heart: A Call to Full Living, Chip Dood
Apps:
Abide (Christian Meditation)
The Faith & Mental Wellness App (Created by Britney Moses)
YouVersion (You can find depression themed devotions here.)
Relax Melodies: Sleep Sounds (Note: I only recommend the white noise function and the app's sleep meditations. I would avoid their new-age themed meditations.)
Podcasts:
Faith & Mental Wellness with Brittney Moses
The Purpose in Purity Podcast with Titania Paige
Ministries:
BrittneyAMoses.com
Bellevue Baptist Church (Free Biblical Counseling in Memphis, TN)
Professional Counseling Services/Organizations:
AACC – American Association of Christian Counselors (They have a searchable directory to find counselors in your area.)
Sage Hill Counseling (Memphis, Nashville, Brentwood, & Murfreesboro TN)
Leave a Comment:
If today's post encouraged you, please leave a comment below to let me know. Also, if you know of other great resources for Christian women battling depression let us know.